---
Help! Bunny's Best Bites (BBB) needs new leadership!
Our Rabbit Advocates Bunny's Best Bites (BBB) Program needs one or more volunteer coordinators to take over the management duties to ensure that hundreds of rabbits continue to get their nutritious and delicious BBB hay each month.  We are also in search of a new hay-packing location. Please click here to learn more about how you can participate in this important fundraiser for the RA Medical Fund.

---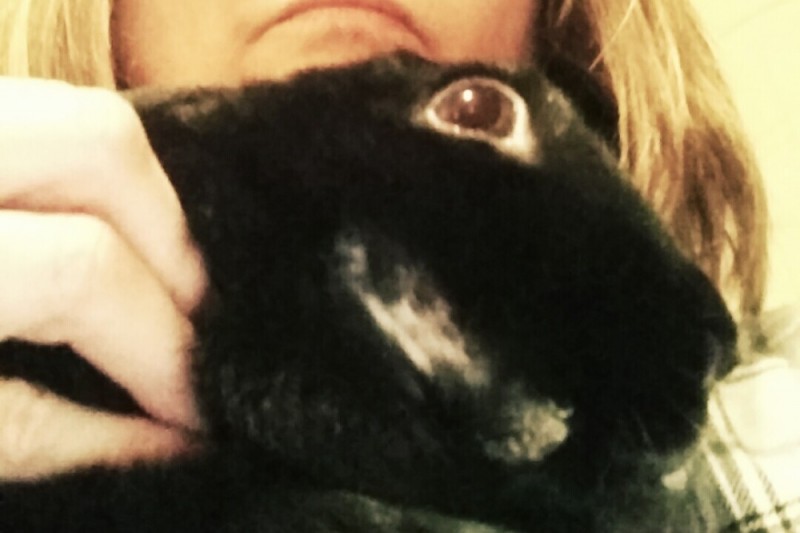 Eloise is a sweet and loving free-roaming rabbit with severe but treatable dental issues. Her vet bills surpass what the medical fund can cover, and we appreciate any help you give to help this special girl.
Update: Thanks to your generosity, Eloise has been able to start the treatments needed to make her feel better. Please continue to help in the effort to treat Eloise's dental issues.
---
Rabbit Advocates General Meeting
Sunday, February 21, 3:30 – 5:30 pm at the Humane Society for Southwest Washington
1100 NE 192nd Ave., Vancouver, WA
February focus: Our featured guest speaker will be Bob Sherman, a familiar and welcome face to many long-time Rabbit Advocates in Portland; Bob is now up to his rabbit ears with volunteer activities at the Kelowna Rabbit Advocates Society in British Columbia.  Bob will provide an educational presentation on Bunny Basics.  There will be a vegetarian potluck, and everyone is invited to bring a dish. All bunnies are welcome, and the public is invited.
The meeting is held in the Education Room. Access by side entrance only. At our regular monthly meetings you can meet with other "rabbit people" and bring your rabbit-related questions for a group question and answer session. If you attend with rabbits, please bring bunnies in carriers.
Meeting Schedule
---
Rabbit Outreach
Sunday, February 14, noon – 3:00 pm at Tigard Petco, 11705 SW Pacific Highway, Tigard
(Usually the second Sunday of every month, but please be sure and check the date)
Bring your bunnies to the Rabbit Advocates Outreach at Petco in Tigard for grooming, nail trims, top-to-bottom wellness inspections, and general pampering.  Talk with our friendly and knowledgeable volunteer "pawdicurists" and get expert advice on keeping your rabbit happy and healthy.  Meet adoptable rabbits and learn how you can adopt a rabbit into your home.  Your donations for services are greatly appreciated, and all proceeds go directly to our Rabbit Advocates medical fund.
Click here for details about the Tigard Outreach
Click here to volunteeer at the next Tigard Outreach
---
BBB Hay Packing
Saturday, February 6, 10:00 am – 2:00 pm
(Usually the first Saturday of every month, but please be sure and check the date)
Be a Bunny's Best Bites Volunteer. All are welcome to help us mix and pack hays into bags with our own special label. Proceeds from BBB sales go directly to our Rabbit Advocates medical fund.
Click here for details and to volunteer to help
Click here to locate and purchase BBB and to place special orders
---
ORS 167.340 Animal abandonment
(1) A person commits the crime of animal abandonment if the person intentionally, knowingly, recklessly or with criminal negligence leaves a domestic animal at a location without providing for the animal's continued care. (2) It is no defense to the crime defined in subsection (1) of this section that the defendant abandoned the animal at or near an animal shelter, veterinary clinic or other place of shelter if the defendant did not make reasonable arrangements for the care of the animal. (3) Animal abandonment is a Class B misdemeanor. [1985 c.662 §8; 2001 c.926 §11]